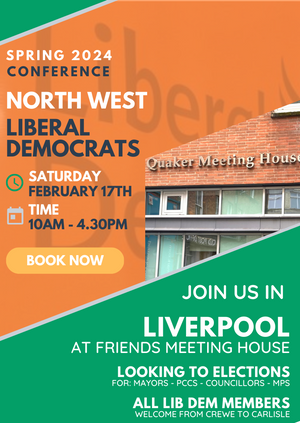 North West Spring Conference
17th Feb 2024
10.00am - 4.30pm
Greenwich Mean Time
Add to Calendar
Event Details
Open to Lib Dem members from Crewe to Carlisle, the North West Region Conference is a space to debate policy, campaigning and strategy, and to hear from and quiz our leading MPs, Peers and Councillors.

Once again it will be an in-person event. This time we are coming to Liverpool, where we are a growing force and the official opposition on the council.

Policy motions deadline is 10 January, and get in touch by 12 December if you need drafting advice to write your motion.

See the North West website for further details (northwestlibdems.org.uk/conference).
There are reduced booking fees for advance bookings compared to paying on-the-day.

On-the-day rates will be:
£25 Standard / £20 Concessions.