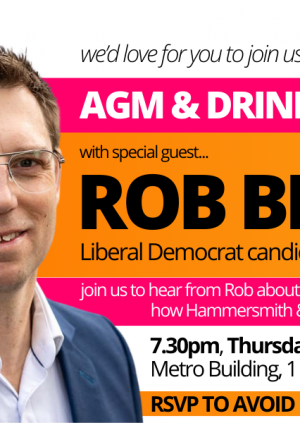 AGM & Drinks Reception
30th Nov 2023
7.30pm - 10.00pm
Greenwich Mean Time
Add to Calendar
Event Details
Join us for our Annual General Meeting (AGM) and subsequent drinks reception with London Mayoral Candidate Rob Blackie!
Rob is running a strong and exciting campaign, and has big plans for Liberal Democrat campaigning across London in 2024. Meet Rob and hear all about how Hammersmith & Fulham Liberal Democrats can play our part in his campaign.
... and with the General Election around the corner, now more than ever is the time to get involved, hear from your local Executive Committee, and find out what we are doing to win in this area.