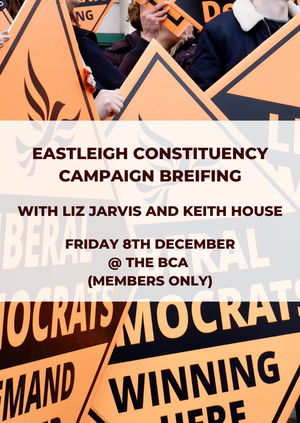 Eastleigh Campaign Briefing
8th Dec 2023
7.30pm - 9.30pm
Greenwich Mean Time
at Bishopstoke Community Centre
Add to Calendar
Event Details
All members are invited to a private evening with Campaign Manager Keith House and PPC Liz Jarvis to discuss the broader strategy behind our Eastleigh parliamentary campaign.
As a previously held Lib Dem seat with a very strong record of local election success, Eastleigh is a seat being watched closely by the national party. We have a strategy to win at the next General Election and would like to spend an evening explaining how we plan to do it.
This will include breaking down the data, information about the tactics the Conservatives will employ to gain an advantage, and what we have done previously to elect MPs in Eastleigh.