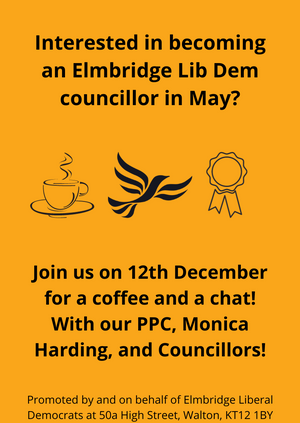 Become a Lib Dem Councillor! Coffee Morning
12th Dec 2023
9.30am - 11.30am
Greenwich Mean Time
Add to Calendar
Event Details
Do you have a local issue which you want to see changed? Do you want to be a representative for your local community? If yes, have you ever considered standing to be a local Liberal Democrat Councillor?
In less than six months' time, voters across Elmbridge will be participating in a crucial Borough Council Election. This election could see the Liberal Democrats win a majority of seats on the Council for the first time ever! In order to achieve this, we need brilliant members like you to stand for election.
On 12th December, between 9:30 and 11:30am, we will be hosting a coffee morning with our brilliant PPC Monica Harding and some of our current Lib Dem Elmbridge Borough Councillors for anyone interested in standing for us in May. You will have the opportunity to ask questions to our current Councillors about the campaign and about their experience in office.
This event will be held in Weybridge. The exact location will be emailed to anyone who signs up.