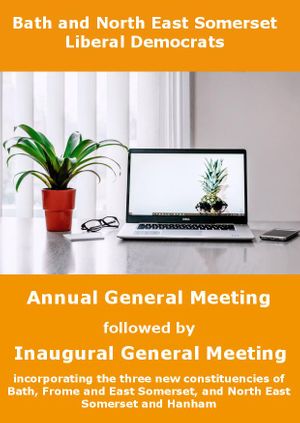 AGM/IGM (via Zoom)
24th Nov 2023
7.00pm - 9.00pm
Greenwich Mean Time
Add to Calendar
Event Details
ANNUAL GENERAL MEETING of the Bath & North East Somerset Liberal Democrats,
followed by
INAUGURAL GENERAL MEETING of the new local party incorporating the three new constituencies of Bath, Frome and East Somerset, and North East Somerset and Hanham according to the Parliamentary boundary changes, effective 1st January 2024.
Wera Hobhouse MP and Sarah Dyke MP, representing Bath and Somerton & Frome, respectively, will address the meeting.
This is an important meeting, more than usual, to wind up the existing local party organisation and create a new one to include all members within the changed boundaries. It is an opportunity to be involved in influencing decisions affecting the new local party and all its members. 

A Zoom link will be sent a day or two before the event. Please register to receive this.

Accessibility Information 
Live Captioning (real-time subtitles) can be enabled on your screen - see the Accessibility webpage in Zoom for further information about how to enable live captions and other helpful features.  Please get in touch if you have any questions or particular accessibility requirements.