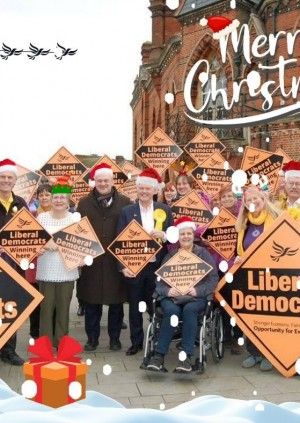 Wokingham Lib Dems Christmas Party 2023 - With Special Guests Vince Cable and Rachel Smith
6th Dec 2023
6.30pm - 11.30pm
Greenwich Mean Time
at The Grange, Waltham St Lawrence
Add to Calendar
Event Details
Join us for our 2023 Christmas party! This year it'll be an even greater occasion than usual as our special guests, former Lib Dem leader Vince Cable and his wife Rachel Smith, are joining us. 
Vince and Rachel have written a joint book called 'Partnership and Politics In a Divided Decade', which provides a fascinating insight into their journey together - from early 2010, to Vince's retirement from parliament in the 2019 general election. 

Vince has also written another book, 'How to Be a Politician'. This is a lighthearted look at what being a politician is like, and may be of interest to our budding councillors and MPs. 
Signed copies of both books are available to buy on this page for £20 each, to be collected on the evening, with half of the proceeds going towards local party funds. Paperback copies of this book will be available to buy on the evening. This is in addition to a raffle, and drinks and canapés will also served on the evening! 
Make sure you get your ticket now to guarantee your place.

PS - Save the date: in the new year, we will also have visits from Alistair Carmichael for whisky tasting on the 11th January, and Tim Farron on 23rd January. More details to follow!