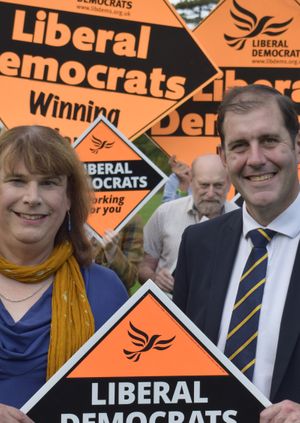 West Berkshire Local Party Dinner
25th Nov 2023
7.00pm - 10.30pm
Greenwich Mean Time
at The Royal British Legion, Haig House
Add to Calendar
Event Details
The West Berkshire & Newbury Liberal Democrats invite you to our Local Party Dinner on the 25th of November, gathering at 7pm for a 7:30 start.
We will be joined by Layla Moran MP, Lib Dem Spokesperson for Foreign Affairs and International Development, and Member of Parliament for Oxford West & Abingdon.
Tickets are £37 and include a 3 course meal, tea and coffee. Please let us know your menu choices, and inform us of any special dietary requirements. Drinks available at the bar.
There is very limited parking available right outside the Club. We will reserve this for less mobile guests. Please let us know if you need a space saved in the Club Car Park, otherwise the Pelican Lane Car Park is within 50 metres of the building. 
There will be a raffle - so do bring some cash for tickets!
We look forward to seeing you there.
Menu
Starters
Roast Tomato soup, cream, croutons ( V )  or
Classic prawn cocktail, prawns in Maryrose sauce on iceberg lettuce served with brown bread  or
Chicken pate, caramelized onion, jam, brioche toast
Main
Roast Breast of Chicken, on mash with a wild mushroom sauce  or
Beef bourguignon, with mash  or
Baked mediterranean vegetables with feta cheese and olive toast ( V )
Served with seasonal vegetables
Dessert
Apple crumble with ice cream or custard  or
Profiteroles with warm chocolate sauce  or
Vanilla panna cotta with raspberry coulis