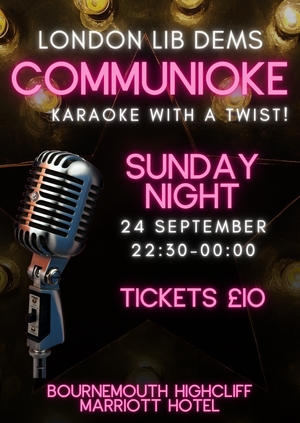 London Liberal Democrats Communioke
24th - 25th Sep 2023
10.30pm - 12.00am
Greenwich Mean Time
at Bournemouth Highcliff Marriott Hotel
Add to Calendar
Event Details
Communioke is back at Autumn Conference! Come along and belt out your favourite tunes. 

It's Karaoke.. But with a twist – the words face the audience and everyone sings along. 
Hosted by Gareth Roberts, Leader of Richmond Council and the coolest Master of Ceremonies that the Liberal Democrats have ever seen, (Disclaimer: We're contractually obliged to say that). Plus appearances from special guests throughout the night, this is one not to be missed. 
Tickets: £10 each.
We're raising funds to support our campaigns in 2024.
If you'd like to
donate the cost of a standard ticket
, please select
"Donation to London Lib Dems."