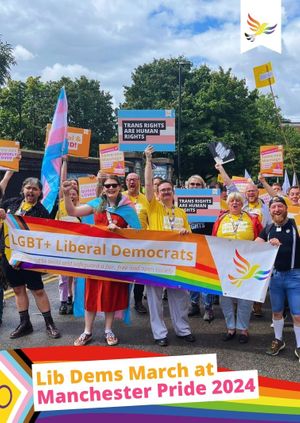 Manchester Pride Parade 2024
24th Aug 2024
12.00pm - 3.00pm
Greenwich Mean Time
at Castlefiled Bowl, Manchester
Add to Calendar
Event Details
Will you join us in representing the Liberal Democrats in this annual vibrant celebration of love, acceptance, and equality? 
The Liberal Democrats have always been at the forefront of championing LGBT+ rights, and our commitment remains unwavering. We believe in equality for all, and this pride parade gives us an incredible opportunity to showcase our dedication. 
Let's march together, celebrate our achievements, and show Manchester the power of unity in supporting the LGBT+ community. 
Additional information and ticket details will be shared nearer the event. Please sign up for email updates using the ticket option listed.