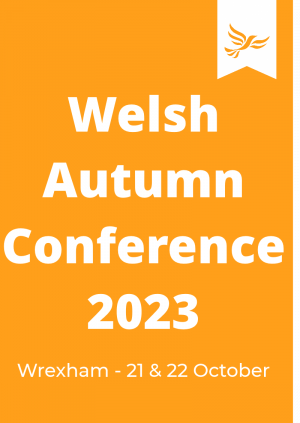 Welsh Liberal Democrats Autumn Conference 2023
21st - 22nd Oct 2023
10.00am - 3.00pm
Greenwich Mean Time
Add to Calendar
Event Details
Thank you for registering for the Welsh Liberal Democrats Autumn Conference 2023.
Registration is open to members of the Welsh Liberal Democrats, other members of the Liberal Democrats from outside Wales, and the general public or those representing organisations. Party members who are under 18, full-time students or on benefits are eligible for a discounted concession rate. Please scroll down for the appropriate category of registration for you.
The Conference Dinner will be taking place on the evening of Saturday 21st October. Tickets for the dinner are available at the very bottom.
If you are representing the press or media, or are a member of party or Parliamentary staff please contact conference@welshlibdems.org.uk for registration details.