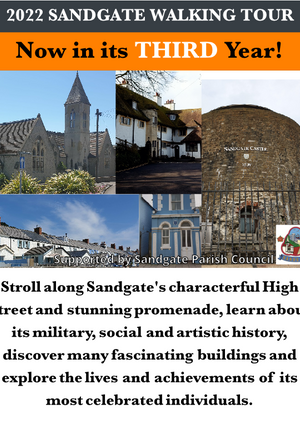 A Sandgate Walk with Friends!
Saturday 21st May 2022 10:30am - 2pm
Add to Calendar
Register
There are no tickets currently on sale for this event
If you'd like to be notified when more become available enter your email address below.
Event Details
On Saturday 21st May, you are warmly invited to get to know Sandgate (even!) better with Folkestone & Hythe Lib Dems.
We'll welcome you at 10.30 to the Prater Raines office at 98 Sandgate High Street (where owner Tim will explain the slightly tenous connection between the building and HG Wells!) for breakfast: coffee / tea and a hot bacon / sausage / mushroom roll.
At 11am, we'll join Tony Quarrington on his walking tour of Sandgate - a gentle stroll along Sandgate's characterful High Street and stunning promenade (mainly, but not entirely on the flat!). We'll learn about its military, social and artistic history, discover many fascinating buildings and explore the lives and achievements of its most celebrated individuals.
At the close of the tour around 1pm, we'll then go for a lunchtime drink at micropub "Inn Doors" on Sandgate High Street before going our separate ways!
Tickets £15 per head to include welcome breakfast & walking tour.